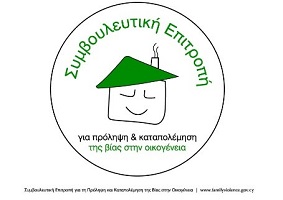 The Advisory Committee for the Prevention and Handling of Violence in the Family aims to best implement the law for Domestic Violence, in collaboration with the relevant governmental and voluntary bodies, in order to achieve as soon as possible a comprehensive prevention and complete eradication of violence in the family.
The work of the Advisory Committee is:
Monitoring the issue of family violence in Cyprus,

Informing and enlightening the public and professionals by various means (conferences, training sessions and seminars)

Promoting scientific research on domestic violence and sexual violence

Promoting services related to domestic violence

Monitoring the effectiveness of the relevant services that operate

Implementing and enforcing the relevant legislation. 
Our Association participates in the Advisory Committee.
Useful link: http://www.familyviolence.gov.cy