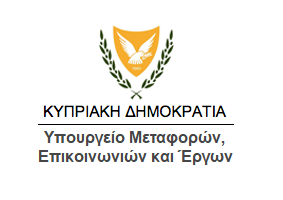 Mission of Ministry of Transport, Communications and Works is the design and implementation of policies for the continuous improvement of transport (air, maritime and land) and of communications, as well as the continuous upgrading of the quality of projects implemented by the Ministry. In addition, the better promotion and exploitation of the archaeological wealth as well as other resources of the country is pursued.
Vision of the Ministry is to establish Cyprus as a regional centre providing modern and efficient infrastructure and services.
SPAVO has signed an agreement with the Ministry of Transport, Communications and Works for the lease of two residences for the accommodation of our Association in Paphos since September 2014 and part of the services of our Association in Nicosia since March 2016. 
By decision of the Minister of Transport, Communications and Labor, on 05/09/2017, approved the allocation of free tickets to persons hosted in Nicosia and Paphos Shelters, with the buses of the companies OSEL and OSYPA, respectively.
For more information: http://www.mcw.gov.cy/mcw/mcw.nsf/index_en/index_en?OpenDocument